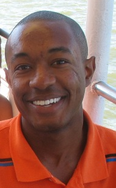 Hi! My name is Addison Sears-Collins. My mission here at Visa Hunter is to destroy the informational barriers that prevent people from traveling or living in another country.
For many years, it had been a dream of mine to travel freely around the world and to live and work overseas. A few years ago, I resolved to do just that. By the age of 29, I had traveled to 51 countries across 5 continents. I had worked and lived in 3 different countries and spoke 4 languages.
It was during my travels when I realized how many barriers exist to establishing a life in another country or even going there as a simple tourist. This site, Visahunter.com, seeks to destroy these barriers by serving as a centralized source of travel, visa, and expatriate information. I'll discuss the two main barriers below.
1) Visas are frustrating
The first barrier to traveling or starting a life in another country is often getting a visa. Whether you want to VISIT, WORK, or LIVE in another country, in many cases, you will need to get a visa. Want your foreign fiance(e), boyfriend, or girlfriend to join you in your country? He or she will 9 times out of 10 need to get a visa. Visas are, therefore, not just little pieces of paper stamped inside your passport…visas are CRITICAL…the BRIDGE that connects people of DIFFERENT CULTURES. And in many situations, such as my own, visas are the GATE that you must pass through in order to realize your DREAMS and GOALS.
Unfortunately, visa requirements on many government and consulate websites are often CONTRADICTORY and sometimes INADEQUATE. It is not unusual for a consulate to omit entire steps, forcing one to return 3, 4, or even 5 times until the paperwork is 100% correct and accepted.
One of my motivations for starting Visahunter.com was the years of frustration of not being able to find centralized, accurate, do-it-yourself, IDIOT PROOF steps on how to get Tourist visas, Work visas, Permanent visas, Investor visas, Business visas, Retirement visas, Student visas, Immigration, and more…to every country in the world.
Travel and exploring foreign cultures is a wonderful thing, and I am here to guide you through the maze of government and consulate websites so that you can get the information you need FAST, in order to get to where you want to go and realize your dreams and goals. I want you to get it right the first time!
2) Insufficient travel and expatriate information on the web
Insufficient travel and expatriate information on the web is the second barrier. Beyond visas, I have written useful moving abroad planners and some useful articles which I've posted on this site. Most travel and expatriate guides fail to cover some of the most important aspects of moving to another country: getting money and, for single expatriates, finding love. On this website, I seek to cover everything from how to find a job in a particular country to how to find love. So, in addition to the 1,400+ pages I have written on visas, I've written articles on finding a job and online dating in multiple countries around the world.
You might ask, why online dating? At the time I created the visa portion of my website, there was no site on the web which had reviews of the best dating sites in multiple countries around the world. I wanted to create one to help others quickly find out what took me years to learn.
A big concern I came across from my single expat readers and other travelers after launching the visa portion of my website was that many single expats felt isolated and were having trouble breaking into the local social scene and finding a partner. Having lived in Mauritius, South Africa, and Brazil and succeeded at online dating, I certainly identified with that and created these reviews to help people attain the same level of success that I did.
In addition, there are techniques and strategies for mastering online dating that most people who sign up for online dating sites are simply not aware of. I learned through over 10 years of trial and error what works and what doesn't work. By reading my materials, you can reduce your learning curve significantly.
My goal is to make the world a smaller place by giving you every piece of information you could possibly need should you decide to visit or start a life in a particular country.
I hope you enjoy the site! If you have any suggestions on how to improve the site, please give me some Feedback, and let me know what you think!
Safe travels,
Visa Hunter